UGC NET Study Materials for Paper 1 (eBook with MCQ) ⇒ BUY NOW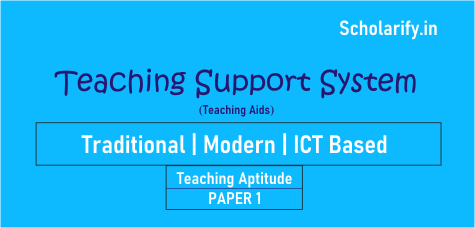 Teaching Support System: A teaching Support System (also called Teaching Aids) is something teachers use in their class to help students improve reading and other skills, reinforce an ability, or to make learning fun.
Teaching Support System (Teaching Aids)
Teaching Support System (Teaching Aids) are instructional aids (book, chalk & board, picture), objects (such as a globe, or map, or a specimen) or devices (such as a DVD or Computer) used by a teacher to enhance or enliven classroom instruction. Teaching Aids are instructional materials and devices that help the teacher in carrying out the teaching-learning process.
Teaching aids are aids available to the teacher. They cannot replace the teacher by any means.
Teaching aids can be used in any of the core classes. There are several types of teaching aids to be utilized in a classroom.
UNIT I –
Teaching Aptitude (Click below on the topic to read the study notes)
Teaching: Concept, Objectives, Levels of teaching (Memory, Understanding and Reflective), Characteristics and basic requirements

Learner's characteristics: Characteristics of adolescent and adult learners (Academic, Social, Emotional and Cognitive), Individual differences
Factors affecting teaching related to: Teacher, Learner, Support material, Instructional facilities, Learning environment and Institution
Methods of teaching in Institutions of higher learning:
⇒ Teacher centred vs. Learner-centred methods (New Topic)
⇒ Off-line vs. On-line methods (New Topic)
⇒ Swayam (New Topic)
⇒ Swayamprabha (New Topic)
⇒ MOOCs etc.)

(New Topic)
Need for Teaching Support System (Teaching Aids)
Every individual has a tendency to forget. Proper use of teaching aids helps to retain more concepts
Students can learn better when they are motivated properly through different teaching
Teaching aids develop the proper image when the students see, hear, taste, and smell
Teaching aids provide a complete example of conceptual
The teaching aids create an environment of interest for the
Teaching aids helps to increase the vocabulary of the
Teaching aids helps the teacher to get some time and make learning permanent.
Teaching aids provide direct experience to the
Importance of Teaching Aids
Teaching aids play a very important role in the Teaching-Learning process.
Motivation- teaching aids motivate the students so that they can learn better.
Clarification – Through teaching aids, the teacher clarifies the subject matter more easily.
Discouragement of Cramming – teaching aids can facilitate the proper understanding of the students, which discourages the act of cramming.
Increase the Vocabulary –

Teaching aids help to increase the vocabulary of the students more effectively.

Saves Time and Money – When the uses teaching aids, it saves him from the long explanations that may take time for students to understand.
Classroom Live and active – Teaching aids make the classroom live and active.
Avoids Dullness – This means the class becomes more active, lively and participatory.
Direct Experience – Teaching aids provide direct experience to the students which make them learn easily.
Types of Teaching Support System (Teaching Aids)
As per the new syllabus (updated) of UGC NET Paper 1, the Teaching Support System can be classified into Three Category as follows:
Traditional Support System
Modern Support System, and
ICT Based Support System
✔

Traditional Teaching Support System (Teaching Aids)
The usual traditional teaching aids are blackboards, textbooks, charts, pictures, posters, maps, atlases, globes, flashcards, flip cards, worksheets, science lab apparatus and materials, models, crossword puzzles, quizzes, storytelling, dramatization, one-act plays, dictionaries, encyclopedias, reference books, learning toys and abacus.
✔ Modern Teaching Aids
The modern teaching aids include: computers, internet surfing, laptops, electronic notebooks, e-readers, computer educational games, online dictionaries, online encyclopedias, picture dictionaries, talking dictionaries, online tests, online e-books, audio-video teaching aids for learning, various subjects including languages; PowerPoint slides and games; flash educational games; Lesson relayed on radio through satellites; lessons on TV relayed by certain TV channels; Educational CDs and DVDs, projectors; interactive whiteboards also called smartboards etc.
✔ ICT Based Teaching Support System
Information and Communication Technology (ICT) is an electronic means of capturing, processing, storing, communicating information. ICT has proven to be a vital form of teaching in today's scenario since it provides ease for the teacher and the student to store, retrieve, and manipulate the information. Therefore, this has been encouraging active learning and self-responsibility of learning with the use of ICT teaching aids. It has made it possible to reach the student in any part of the world. Teaching can thus take the shape of Computer-assisted learning (distance learning), videoconferencing, projectors, and even mobiles. This technology has the ability to not only engaging the students in subjective activities but also enhance their cognitive skills.
ICT includes computers, internet, telephone, radio, and other audio-visual equipment. In recent years, it has been observed that ICT teaching aids are not merely another medium for the transmission of knowledge but have changed the relationship between teacher or trainer and learner. It requires new skills, competencies, and attitudes amongst those planners, managers, teachers, and trainers who are going to design and develop materials and support learners using these aids. In short, the development of innovative practices and the generation of new competencies in ICT are fast becoming key issues for teacher and trainer training.
Types of Teaching Aids based on some other Factors
A. Based on Time-period of use of Teaching Aids:
Conventional or Traditional Teaching Aids
Non-conventional and Modern Teaching Aids
B. Based on the Sense Organs Involved:
Teaching Aids re also called as Audio-Visual Aids. Traditionally used teaching aids stimulated only one sense organ that is either the eyes or ears. However, contemporary teaching aids provide stimulation to ears and eyes together. The emerging teaching aids involve other sense organs too.
Audio Aids
Visual Aids
Audio-Visual Aids
✔ Visual Aids: The aids which use the sense of vision are called Visual aids.
For example – actual objects, models, pictures, charts, maps, flashcards, flannel board, bulletin board, chalkboard, overhead projector, slides, etc. Out of these, blackboard and chalk are the commonest ones.
✔ Audio Aids: The aids that involve the sense of hearing are called Audio aids. For example – radio, tape recorder, gramophone, etc.
✔ Audio-Visual Aids: The aids which involve the sense of vision as well as hearing are called Audio-Visual aids. For example – television, film projector, film strips, etc.
C. Based on Projection or Show:
✔ Projected: Projected Aids include PowerPoint presentations, slides, film-strips, filmstrip projector, films, transparencies, overhead projector, TV/VCR as they can be projected on the screen or even against a white-washed wall to give an enlarged image of the material. They can be used suitably for both large groups as well as small groups. The large, bright, and colourful larger than life images make them more effective than a non-projected aid.
✔ Non-Projected: Those aids which do not require projector electricity or projection screen. Such materials can be simply shown, can be hung or touched, e.g., Chalkboard, Whiteboard, Flannel board, Magnet board, Charts, Posters, Pictorial Materials, and Models, etc. They can hence be used with good results, provide first-hand experiences, and also make the learners actively participate. The non-projected aids add interest and involvement of the learner and ensure better results and longer retention.
D. Based on the Experience Provided by an Aid
Some teaching aids are concrete in nature. While other teaching aids are more abstract. Prof. Edgar Dale (1959) has given the Cone of Experience, wherein the type of experience provided by various teaching aids has been arranged in a pictorial form.
In moving toward the pinnacle of the Cone from direct, purposeful experiences to verbal symbols, the degree of abstraction gradually increases. As a result, learners become spectators rather than participants. The bottom of the Cone represented "purposeful experience that is seen, handled, tasted, touched, felt, and smelled." By contrast, at the top of the Cone, verbal symbols (i.e., words) and messages are highly abstract. They do not have a physical resemblance to the objects or ideas. As Dale (1969) wrote, "The word horse as we write it does not look like a horse or sound like a horse or feel like a horse."
Final Conclusion
There are a large number of teaching aids available to the teacher/facilitator. Teaching Aid is the material used by a teacher to supplement classroom instruction and stimulate the interest of learners. With technological progress and advancement, modern including ICT based and non-conventional teaching aids are available to both the teachers and students.
---
Related Topics:
UGC NET Syllabus (Updated): Paper 1 and 2 (Download)
Solved Question Papers of UGC NET Paper 1
UGC NET Study Materials for Paper 1 (Download PDF)
M Phil and PhD Fellowship