Get Study Materials of UGC NET Paper 1 (eBook with MCQ) ⇒ DOWNLOAD NOW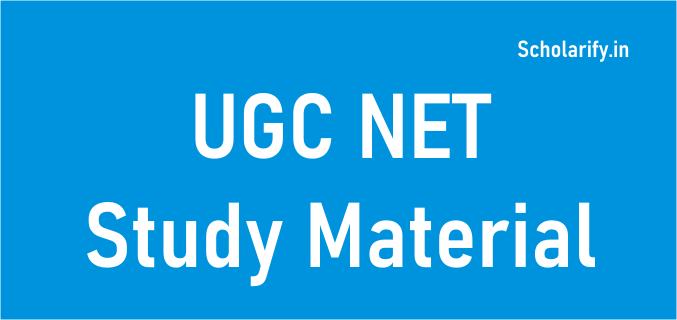 Free UGC NET Study Materials for Paper 1
UGC NET Study Materials Paper 1 : UGC NET Exam is an entry pass for the academic world. The NET qualified individuals are eligible for the post of Assistant Professor at colleges and university level throughout India. Additionally, a NET qualified candidate is also exempted from the entrance test for PhD admission of all universities across India.
The UGC NET exam is often described as one of the most challenging tests in India. Why is it tough? Well, the reason is simple, the UGC NET exam covers a vast and lengthy syllabus. To crack this exam, you need to be really dedicated and sincere in your efforts. It's not something you can do successfully and easily.
So, when people say it's a tough exam, they mean that it requires a lot of hard work and dedication. But with the right approach and commitment, you can definitely achieve your goal of passing the UGC NET exam and opening up exciting opportunities in the academic world.
Before reading UGC NET Study Materials, there are four important tips to achieve a better score in the upcoming UGC NET Exam:
Read: UGC NET Solved Question Papers
Question Pattern for UGC NET Paper 1
Before diving into the UGC NET study materials, it's essential to understand how Paper 1's questions are structured. UGC NET Paper 1, known as the General Paper on Teaching and Research Aptitude, is a must for all subjects. In UGC NET Paper 1, you'll find 50 multiple choice questions, and each question is worth 2 marks. You're required to answer all 50 questions.
UGC NET Paper 1 has the following 10 units (Topics) and each unit has equal weightage:
(UGC NET study materials have been prepared according to the revised syllabus).
Unit-I Teaching Aptitude
Unit-II Research Aptitude
Unit-III Comprehension
Unit-IV Communication
Unit-V Mathematical Reasoning and Aptitude
Unit-VI Logical Reasoning
Unit-VII Data Interpretation
Unit-VIII Information and Communication Technology (ICT)
Unit-IX People, Development and Environment
Unit-X Higher Education System
Get Here: Updated NTA UGC NET Syllabus for All Subjects
Free UGC NET Study Materials for Paper 1
Now, you can go through UGC NET study material for Paper 1. Here, you can find the brief and important topics of each unit of Paper 1. The UGC NET study materials are provided according to the new pattern and updated syllabus.
Each unit has been divided into several topics. Just click on the topic and start to read the study materials for paper 1 without any cost. It is free for all aspirants.
WISH YOU ALL THE BEST!!!
Click the following links for Free UGC NET Study Materials ⇓
Unit 1 – Teaching Aptitude

Unit 2 – Research Aptitude

UNIT 3 – Comprehension
Download Study Materials of UGC NET Paper 1

UNIT 5 – Mathematical Reasoning and Aptitude

UNIT 6 – Logical Reasoning

UNIT 7 – Data Interpretation

UNIT 8 – Information and Communication Technology (ICT)

UNIT 9 – People, Development and Environment

UNIT 10 – Higher Education System
---
Related Topics
UGC NET Syllabus (Updated): Paper 1 and 2
Solved Question Papers of UGC NET Paper 1
UGC NET Study Materials for Paper 1 (Download PDF)
MPhil and PhD Fellowship