Get Study Materials of UGC NET Paper 1 (eBook with MCQ) ⇒ DOWNLOAD NOW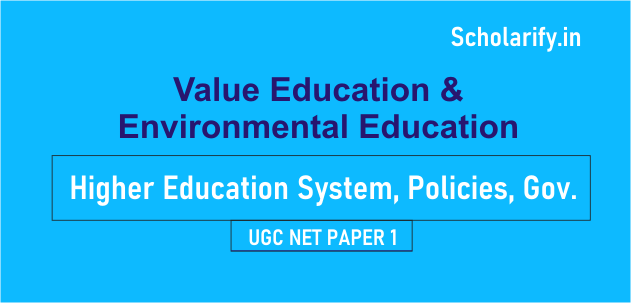 Value and environmental education are two important topics for the education system of any country. Before going for further details, we must know about the term " Values".
Value and Environmental Education
Values are principles, fundamental convictions, ideals, and standards of life which act as a general guide to behaviour or as a reference point in decision making. Values are beliefs about what is right and what is wrong and what is important in life.
It is a set of principles which guide the standard of behaviour. Values are desirable and held in esteem. They give strength to a person's character by occupying a central place in his life. It reflects one's attitudes, choices, decisions, judgments, relationships, dreams and vision.
Values are virtues, ideals and qualities on which actions and beliefs are based. Values are guiding principles that shape our world outlook, attitudes and conduct. The moral values present a true perspective of the development of any society or nation. They tell us to what extent a society or nation has developed itself.
UNIT X – Higher Education System (Click below on the topic to read the study notes)
UGC NET Study Materials for Paper 1 (eBook with MCQ) ⇒ Download Now
Categories of Values
Personal Values: Personal values mean the desires of individuals whatever they are in the social relationship. Some of the personal values are excellence, honesty, self-confidence, self-motivation, punctuality, ambition, courage, creativity, imagination, etc.
Social Values: Individuals cannot live in the world without having interaction with others. People want social values like love, affection, friendship, peer group, reference group, imparity, hospitality, courage, service, justice, freedom, patience, forgiveness, coordination, sympathy, tolerance, etc. Social values are more important for a healthy, good environment for every organization.
Moral Values: Moral values impart respecting others and ourselves, respecting the right of others, keeping promises avoiding unnecessary problems with others avoiding cheating and dishonesty, showing gratitude to others, and encourage them to work.
Spiritual values: The ultimate ethical value is called spiritual value. Spiritual values are piety, meditation, yoga, self-discipline, control, purity, and devotion to God, etc. Spiritual values highlight the principles of self-restraint. Self-discipline contentment, reduction of wants, freedom from general greed, and austerity.
Universal Values: It is universal values that indicate the essence of the human condition. It is through Universal Values that we link ourselves with humanity and the cosmos. Universal Values can be experienced as life, joy, brotherhood, love, compassion, service, bliss, truth and eternity.
Cultural Values: Cultural values are concerned with right and wrong, good and bad, customs and behaviour. Cultural values are reflected in language, ethics, social hierarchy, aesthetics, education, law, economics, philosophy and social institutions of every kind.
After classifying values, we must be determining which of the above values are most meaningful. Universal values are at the top of the list. The others have their place but it is through Universal values that we experience a sense of oneness with the human race Universal values must be our foundation if we are to enjoy a rich, profound, fulfilling life.
Value Education
Value education is a process of teaching and learning about the ideals that society considers them to be important. Value education can take place in different forms, but the main aim of providing it to students in their educational institutions is to make them understand the importance of good values; use and reflect them in their behaviour and attitudes; and finally contribute to the society through their good responsibility and ethics.
In simpler terms, Value education is defined as the process by which people give moral values to others. It can be seen as an activity taken place in an institution or organisation in which people are assisted or helped by others, who are elder or have more experience or have authority over the people. This activity of value education will be used to make an individual better and it is important to assess the result of it in order to see the long-term well-being of an individual and others.
In the words of John Dewey (1966), "Value education means primarily to prize to esteem to appraise, holding it dear and also, the act of passing judgment upon the nature and amount of its value as compared with something else".
Objectives of Value Education:
To improve the integral growth of human begins.
To create attitudes and improvement towards a sustainable lifestyle.
To increase awareness about our national history our cultural heritage, constitutional
rights, national integration, community development and environment.
To create and develop awareness about the values and their significance and role.
To know about various living and non-living organisms and their interaction with the environment
Need for Value Education
Mahatma Gandhi found that there is a great deal of moral degradation in society. The main causes of moral degeneration are:
Lack of respect for the sanctity of human life.
Breakdown of parental control of children in families
Lack of respect for authority, seen through the brazen breaking of the law and total disregard for rules and regulations
Crime and corruption
Abuse of alcohol and drugs
Abuse of women and children, and other vulnerable members of society.
Lack of respect for other people and property.
Other Reasons for Value Education
to teach the values of the culture and society
to enable them to distinguish between right and wrong
to form the conscience of youngsters
to continue the traditions of society
to make meaningful the practices and beliefs
to connect to every human being in the right way
Value Education in India
In the history of Value Education, we see rather slow development of the system in India. In the 1980s, the government was more responsive to the needs of Value Education in our schools.
Ancient India: Value Education in India from ancient times has held a prime place of importance. From the gurukul stage, the child not only learnt skills of reading and archery but more the philosophy of life in relation to its impermanence. Hence education in India was born of this vision to achieve one's experience in the absolute as a spark of the divine and in this process practice of one's duty accompanies the acquisition of knowledge.
In the modern school system value education, was termed moral education or moral science. British were absolutely neutral in their policy towards religion and value education.
CABE – (1943-46) emphasized spiritual and moral education. It was the responsibility of the home and community.
Committee on Emotional Integration (1961) pointed out that the science students should have at least some background of humanities; it opined that there should be a compulsory paper on India's cultural heritage.
Education Commission (1964-66) recommended moral, social and spiritual values at all levels.
UNESCO (1972) felt that the education system should promote values of world peace and international understanding and unity of mankind.
National Policy on Education (NPE 1986) proposed readjustments in the curriculum to make education a forceful tool to inculcate social and moral values; to eliminate obscurantism, fanaticism, superstition, illiteracy and fatalism. The National Policy on Education (NPE), 1986 envisages a national system of education based on a National Curricular Framework containing a common core along with other components that are flexible.
The common core includes the history of India's freedom movement, the constitutional obligations and other content essential to nurture national identity. These elements will cut across subject areas and will be designed to promote values such as India's common cultural heritage, etiquette, egalitarianism, democracy and secularism, equality of the sexes, protection of the environment, removal of social barriers, observance of the small family norm and inculcation of the scientific temper.
Environmental Education
Environmental education has been defined and redefined over the last twenty-five years. Definitional issues are inherent in a field this broad and encompassing. It is generally agreed that environmental education is a process that creates awareness and understanding of the relationship between humans and their many environments – natural, 17 man-made, cultural and technology. Environmental education is concerned with knowledge, values, attitudes, application and has as its aim responsible environmental behaviour (NEEAC, 1996).
Environmental education is a process that allows individuals to explore environmental issues, engage in problem-solving and take action to improve the environment. As a result, individuals develop a deeper understanding of environmental issues and have the skills to make informed and responsible decisions.
The components of environmental education are:
Awareness and sensitivity to the environment and environmental challenges
Knowledge and understanding of the environment and environmental challenges
Attitudes of concern for the environment and motivation to improve or maintain environmental quality
Skills to identify and help resolve environmental challenges
Participation in activities that lead to the resolution of environmental challenges
Environmental education does not advocate a particular viewpoint or course of action. Rather, environmental education teaches individuals how to weigh various sides of an issue through critical thinking and it enhances their own problem-solving and decision-making skills.
Need for Environmental Education
The need to protect the environment hence the rationales for environmental education arise as a result of the following:
The environment is the basis of all life and therefore deserves proper care and management.
If the environment is threatened on a continuous basis, numerous problems which would constitute a danger to human existence could arise.
The environment is part of our cultural heritage which should be handed down to prosperity.
Some resources of the environment are not easily replaceable and should be managed on a sustainable basis, to prevent the extinction of certain components of the environment such as plants and animals.
There is a need to enhance the sanity and aesthetic quality of our environment in order to promote healthy living.
The environment is part of nature and needs to be preserved for its own sake.
Value and Environmental Education is an important part of the school curriculum. At higher education, there is a narrow scope for value and environmental educations. Teaching and learning are more specific to the subjects after schooling except for subjects like spirituality, religions, etc.
---
Refs for Value and Environmental Education:
Lakshmi, V. V., & Paul, M. M. (2018). Value education in educational institutions and role of teachers in promoting the concept. International Journal of Educational Science and Research, 8(4), 29-38.
https://www.cukashmir.ac.in/departmentdocs_16/UNIT%20I%20INTRODUCTION%20TO%20VALUE%20EDUCATION%20docx.pdf
https://www.dypiemr.ac.in/images/value-added-courses/vac/Content-for-Value-Education.pdf
https://www.epa.gov/education/what-environmental-education
https://www.bdu.ac.in/cde/docs/ebooks/B-Ed/II/ENVIRONMENTAL%20EDUCATION.pdf
---
Related Topics:
UGC NET Syllabus (Updated): Paper 1 and 2
Solved Question Papers of UGC NET Paper 1
UGC NET Study Materials for Paper 1 (Download PDF)
MPhil and PhD Fellowship